MARINE DOCK SYSTEMS
45 Wellington Street Riverstone N.S.W 2765 Australia
Ph: +61 2 9627 5577

---

26 Corbould Rd Coolum Beach Qld 4573 Australia
Ph: +61 7 5324 1557


---

Home&nbsp Email&nbsp Enquiry&nbsp Links
1200 LITRE FLOTATION MODULE
The 1200 Litre Flotation Module was designed for commercial applications and large residential docks. The modules are very stable and have inbuilt horizontal lugs for assembly to framework. The modules are instrisically very stable and have inbuilt horizontal lugs for assembly to framework with fasteners. Floats can be filled with water or concrete to add ballast to increase stability. Ballast can also be used to raise and lower the float for different freeboard requirements. Floats can also be foam filled for extra security if required.
2000mm Long x 1200mm wide x 520 deep
62 kg each

Large Detailed Drawings
a4-0190 - 1200 Litre float
a4-0190 - 1200 Litre float
Hrdrostatic graph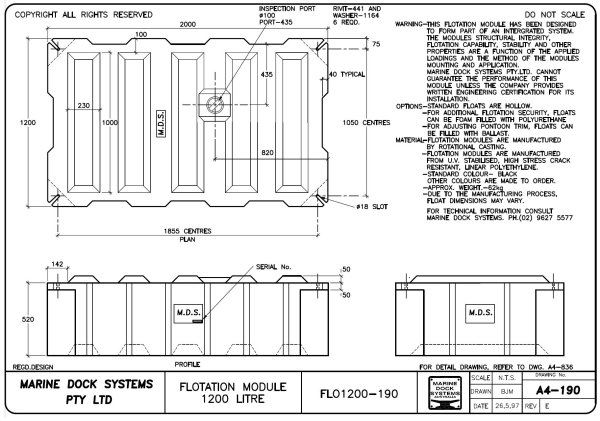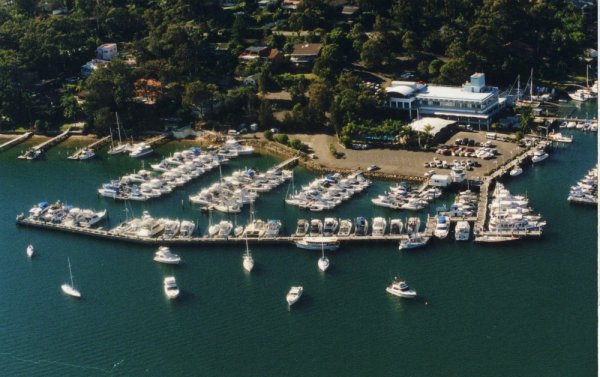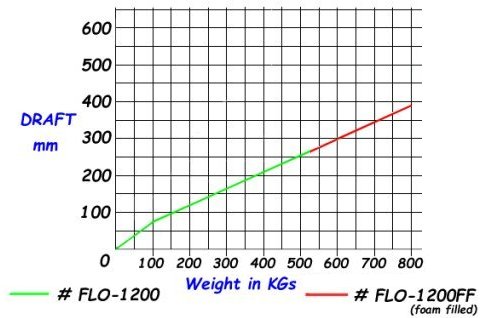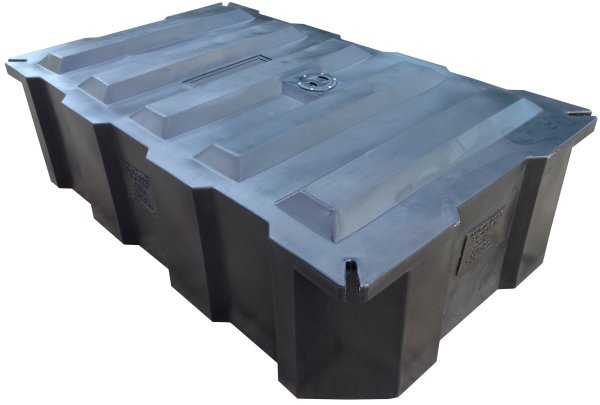 ---
---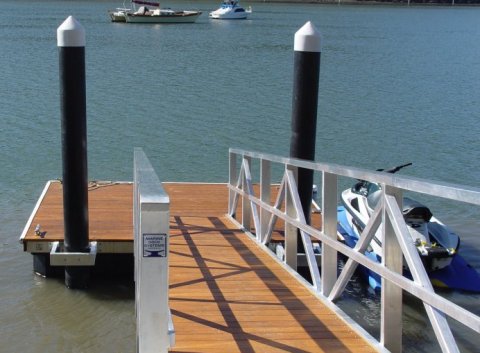 ---
---
---
---
---
---
---
| | | |
| --- | --- | --- |
| Pontoon 4.45m x 3 mtr Timber Frame | | Pontoon 7.45 x 2.05 mtr Alloy Frame |
---
---
---
---
---
---
---
---
---
---
---
1200 LITRE
POLYETHYLENE FLOAT
2000mm Long x 1200mm Wide x 570mm deep. 62kg each. manufactured using rotational moulding method, made from liner low density polyethylene.
Build Your Own Pontoon, Marina or Ramp
Marine Dock Systems designs has pontoon kits so that you can build your own pontoon. Many different kits are available. You can purchase the full kit or just the parts you want. All kits come with easy to read drawings and our staff are happy to answer any questions. All you need is one of our kits, a few tools, a spare weekend and maybe a case of beer.
---
---
---
---
---
Standard Domestic Ramp 6 mtr x 1.2 mtr
Part # RAMP-0527
F27 kiln dried 150 x 50 Hardwood frame F27 kiln dried 35mm Hardwooddecking All stainless steel and aluminium hardware. Including aluminium / stainless hinges.
Drawing a4-0527 Timber ramp 6 mtr x 1.2
a4-0527 Timber ramp 6 mtr x 1.2
---
We recommend that you use our drawings to build your own pontoon but of course you don't have to. We have supplied floats to people to build their own pontoon since 1980. Here are just some of the pontoons people have built themselves. If the pontoon you would like to build is not listed in the above standards, please let us know as we probably have a drawing for the size you would like. We can supply a kit for any size pontoon.

---
| | | |
| --- | --- | --- |
| Industrial Pump 3600kg or 7200kg Foam Filled | | Industrial Mixer 3600kg or 7200kg Foam Filled |
---
---
MARINE DOCK SYSTEMS
45 Wellington Street Riverstone N.S.W 2765 Australia
Ph: +61 2 9627 5577

---

26 Corbould Rd Coolum Beach Qld 4573 Australia
Ph: +61 7 5324 1557


---

Home&nbsp Email&nbsp Enquiry&nbsp Links